Find the perfect sprocket for your application
Selecting a power transmission component can be challenging, especially when it is a fundamental part like a sprocket. 
Products must be available in many sizes, to fit a variety of design envelopes – and avoid the need for customised parts. With our comprehensive range, you will easily find the correct sprocket size for your application. 
All our sprockets are made from high-quality steels and can be further adapted for high performance with coatings such as black oxide or zinc plating. Sprockets are available in a variety of configurations, which must be matched accurately to a machine's design. 
Our online catalogue simplifies this selection process and helps you identify quickly the correct product. 
Products can be specified either by designation or product type. A designation search brings up a list of all relevant products, such as 'Metric Duplex, Taper Bushed' or 'ANSI Simplex, Pilot Bore'. Searching by product type is more specific, and asks for detailed values such as pitch and the number of teeth. 
To start searching for the correct size and type of sprocket, click the Online Catalogue button, then select from the menu.    
Features and benefits
Manufactured according to ISO606 & ASME B29.100 standard 
Available in plate, single hub and double hub configurations 
Made from high-grade steel and carbon steel 
Optional taper bushes simplify installation and removal 
Special products made from grey cast iron HT250 or cast iron 250 
Surface treatment, including black oxide, available on request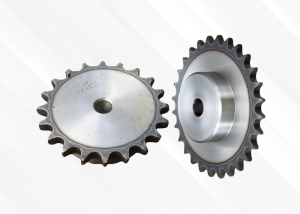 Have a Question? Contact Us Now
Shop# 26, Ismail Center 55-Nishter(Brandreth) Road, Lahore
Phone: 04237634012, 04237664999
Cell:
03110434999




Whatsapp: 03334349107


Email: nlbco@brain.net.pk
nlbco@mapross.com info@mapross.com